Nevada Receives NASA EPSCoR Research Award for $100,000
To deliver a payload to the International Space Station (ISS)
Las Vegas, Nevada – The Nevada System of Higher Education (NSHE) has been awarded $100,000 over a period of three years for the project "A compact, non-invasive, and efficient vision screening system for long-term spaceflight missions." This project is funded through The National Aeronautics and Space Administration's (NASA's) Established Program to Stimulate Competitive Research (EPSCoR), in collaboration with the International Space Station (ISS) Research Office.
Unique neuroocular changes affect a subset of astronauts who have completed prolonged spaceflight missions. Due to its unique pathophysiology, a new case definition was proposed, and the condition was renamed Spaceflight Associated Neuro‑ocular Syndrome (SANS). A significant barrier in determining the etiology of SANS while monitoring its risk of development and progression is the lack of technologies onboard long‑term spaceflight missions that are capable of measuring crew member's vision in‑flight, objectively, quickly, and reliably.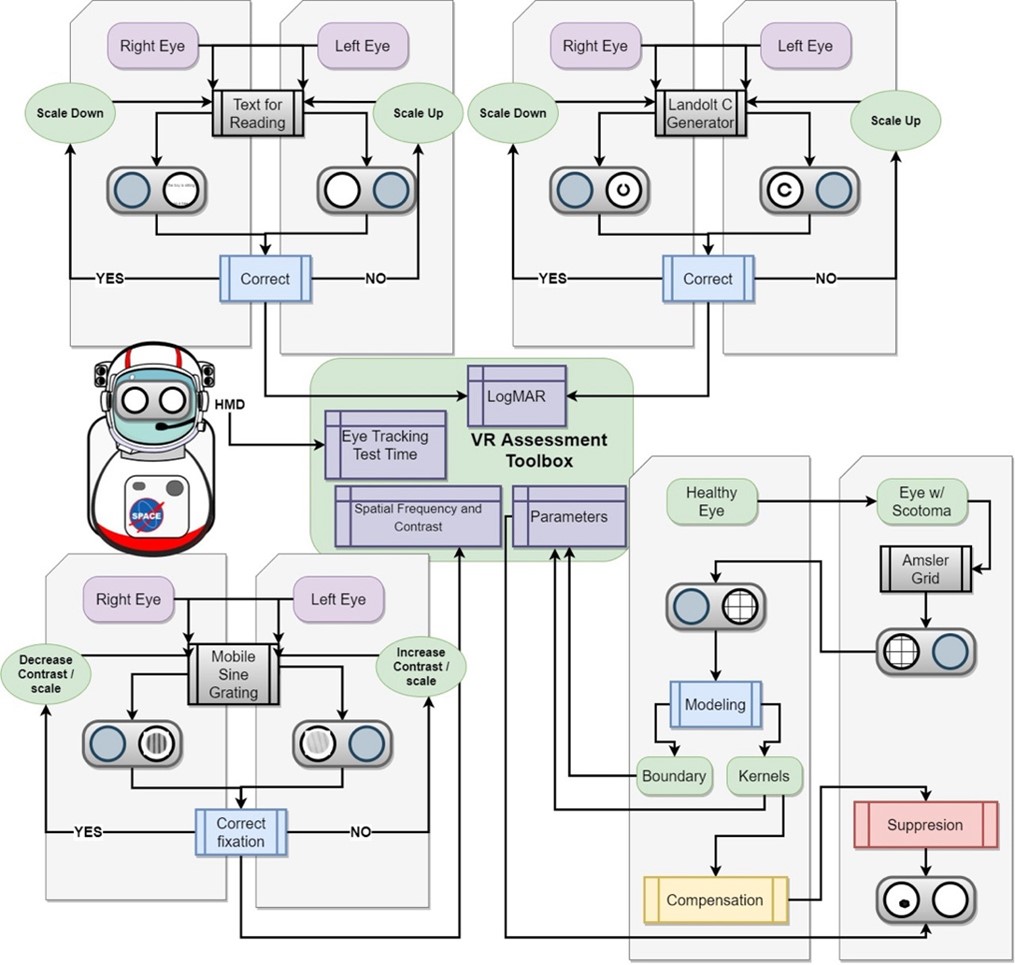 Limitations of terrestrial analogs and the unknown factors contributing to SANS, such as microgravity, elevated CO2 levels, or other spaceflight exposures, present a significant unmet need in collecting physiological and functional data related to astronaut vision during long‑term spaceflight.
Therefore, the main objective of the proposed work is to deliver a payload to the International Space Station (ISS), comprising technologies that are designed to measure various aspects of astronauts' vision quickly and reliably.
"Our technology integrates a fully developed battery of user‑friendly vision tests into a compact screening device, e.g., a virtual reality head-mounted display (VRHMD)", said Dr. Alireza Tavakkoli, Associate Professor at the University of Nevada, Reno, and the technical lead for the project. "In‑flight vision screening data will be an invaluable asset to help scientists better study SANS and develop and monitor the effects of countermeasures".
"The Nevada NASA EPSCoR program is thrilled that Dr. Tavakkoli and his team will have an opportunity to test their technology on the International Space Station", said Dr. Eric Wilcox, Nevada NASA Programs Project Director. "The EPSCoR program is invaluable to researchers in Nevada to get our innovations out of the lab and into space."
The long‑term goal of this project is to establish a suitable protocol for integrating this vision screening platform into future spaceflight missions to be able to monitor crew member's visual health in real‑time and with frequencies currently not possible.
"We are proud that Dr. Tavakkoli and his team have this opportunity to contribute to the health and well-being of our NASA astronauts," University of Nevada, Reno Engineering Dean Erick Jones said. "One of our college's main focus areas is unmanned vehicles and the new space frontier, and this work augments NASA's efforts to explore the unknown in air and space, and to innovate for the benefit of humanity."
"EPSCoR enables eligible states to advance in vital science and research areas," Mridul Gautam, vice president for Research and Innovation at the University of Nevada, Reno and chair of the EPSCoR/IDeA Coalition Board, said. "With this NASA EPSCoR funding support and inspired leadership from our faculty, research in computer science and atmospheric sciences will continue to help the University produce a highly prepared workforce."
About NSHE: The Nevada System of Higher Education, comprised of two doctoral-granting research universities, a state university, four comprehensive community colleges, and one environmental research institute, serves the educational and job training needs of Nevada. NSHE provides educational opportunities to more than 100,000 students and is governed by the Nevada Board of Regents. The System includes the University of Nevada, Las Vegas, the University of Nevada, Reno, Nevada State College, Desert Research Institute, the College of Southern Nevada, Great Basin College, Truckee Meadows Community College, and Western Nevada College. For more information regarding NSHE please visit: https://nshe.nevada.edu/
About the Nevada System Sponsored Programs and EPSCoR: The mission of the Nevada System Sponsored Programs and EPSCoR is to promote collaboration and multidisciplinary learning among NSHE institutions, and to enable alignment of efforts with the needs of the state to increase research and STEM competitiveness. The goal is to create new opportunities in the State of Nevada for workforce development and promote the development of Science, Technology, Engineering and Mathematics (STEM) disciplines for the state. For more information regarding Nevada EPSCoR please visit: https://epscorspo.nevada.edu/
###
For inquires, please contact Mayara Cueto-Diaz, mcueto-diaz@nshe.nevada.edu.