Tuition-Covered Data Analytics Training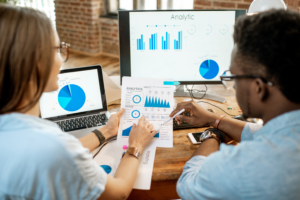 At present, there are 40,000 high-paying job openings for Data Analysts with the relevant qualifications and experience. If you're interested in filling one of these positions and have a strong desire to learn more about data, our data analytics training program is a perfect fit for you!
This opportunity is unique because it provides skills that can be applied to a range of disciplines, including computer science, ecology and the environment, health sciences, economics, and the social sciences, and more!
This program provides tuition coverage for students interested in data analytics training and provides internship opportunities with NSHE faculty research mentors. Students of this program will complete the Data Analytics training hosted by Truckee Meadows Community College (TMCC) virtually in partnership with NCLab.
Applications for the training are now open, so apply today. The deadline to apply for this program is April 15, 2023. While completing this independent study program from June 1 to November 30, students will develop the technical and analytical skills necessary for professional data analyst.
Successful applicants will receive tuition coverage for this training. See below for a description of the application and competitive selection process.
Students who complete the training program will have the opportunity to apply for a funded research internship with HDRFS faculty mentors across all NSHE institutions. Interns who are selected will be supported with a $4,000 scholarship for a four-month, 20-hour per week commitment.
Students currently enrolled in any NSHE institution are eligible to apply. Interested applicants must be enrolled in their respective undergraduate programs through spring 2024.
There are two stages to the application process: Application and Screening. 
Application Phase. Submit a written application. Deadline: April 15, 2023
A one-page personal statement detailing the applicant's interests & their future goals, 

Curriculum vitae (CV) or resume

Complete the application form 
Screening Phase. After submitting the application, students participate in the screening process which includes:
A 30-minute pre-interview

3-5 hour mini-course to understand students' baseline skill levels

A 45-minute post-interview
The training package consists of multiple short courses that focus on structured query language (SQL), workplace math, and computational literacy. The training concludes with a short, applied project. For each course within the training package, the student will receive a course completion certificate. The program is self-paced and asynchronous, provided online through an interactive platform.
Support is provided throughout the program, including built-in tools like hints that can clarify questions and provide more information, and direct one-on-one access to the Instructional Support team seven days per week with a response time of 24 hours or less.
Approximate number of hours to complete all of the short courses in the training package is 200 hours.
More information on course content will be made available soon.
What are the benefits of the Data Analytics Training program?
Students who complete this competency-based course will have the skills and knowledge necessary to succeed as data analysts.

Participants will have the practical experience that well over 95% of job openings require.

The coursework can be completed independently, alongside existing commitments that students may have. 

NSHE students can complete the training remotely, from wherever they are based across the state. Research internships may require in-person involvement, depending on the topic.
Who is the ideal candidate for this program?
Characteristics of an ideal candidate include someone who enjoys finding patterns and creating systems to organize information. Students should be interested in working with data and motivated to learn and apply new skills. 
How many hours a week should I expect to spend on the training?
Each course has its own hours expected to complete. In general, the total hours required to complete each course is 200 hours. On average, students should aim to commit 9 hours per week to complete this training program. Since this program is self-paced, students can complete this program faster than the normal hours.
Will I earn a certificate?
The students will receive course certificates for each class completed as part of the 200 hour training. 
What do I need to do to pass this course?
To successfully complete this course, learners must complete 100% of online coursework including quizzes, projects, and more in the stipulated time & order.
Where does the program take place?
This program is completely online. Students enrolled in any NSHE institution can complete this course. Research Internships may require in-person involvement. 
Are there any prerequisites for this program?
There are no prerequisites for this program but students should be able to show that they can learn new things and apply what they learn, through the assessment and screening process.
What other dates will this program be offered in the future?
This program will be offered for academic years 2023-2024, 2024-2025, 2025-2026, and 2026-2027.
What equipment or technical requirements are there for this program?
Students should have access to a private or public device larger than a phone with a stable internet connection and an up-to-date browser.
This program is organized by NSF EPSCoR Research Infrastructure Improvement Program: RII Track-1: Harnessing the Data Revolution for Fire Science (HDRFS).
This material is based upon work supported by the National Science Foundation under Grant No. OIA- 2148788.
Any opinions, findings, and conclusions or recommendations expressed in this material are those of the author(s) and do not necessarily reflect the views of the National Science Foundation.