::Resources
Climate Change Science for Effective Resource Management conference was held on March 27-28, 2013. Click here to view conference materials and photos
Long Now Field Day Participants Welcome Researchers from China and France
Award Acknowledgement and Disclaimers



Seminar Series

Climate Change Facebook Group
::Need Updates?
Researchers - Please contact us for content updates.
Click here to learn how to upload your research photos
Research Projects
Climate Change (Track 1)
Overview
The Nevada Climate Change project will create a statewide interdisciplinary program that stimulates transformative research, education, and outreach on the effects of regional climate change on ecosystem services, especially water resources, and support use of this knowledge by policy makers and stakeholders.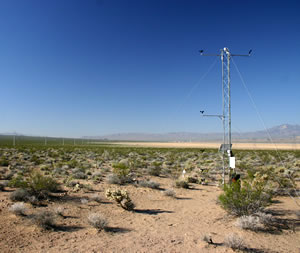 Accelerated changes in climate are occurring in Nevada and will continue into the future leading to complex changes and feedbacks among climate, biophysical, and human systems. Developing improved understanding of global climate change on a regional scale is imperative since a major scientific challenge is how best to downscale global climate predictions. An integrated approach in which biophysical and human responses to climate changes are studied will provide quantitative understanding of feedbacks among water resources, ecosystems, as well as atmospheric and human systems.
In addition, the project provides NSHE, the State of Nevada, and the region with new interdisciplinary capability to detect, analyze, and model the effects of regional climate change on landscapes, ecosystems, water resources, and to communicate research results to decision- makers and the public. To broaden and increase the impact of this project, Nevada has formed a tri-state collaboration with the EPSCoR states of New Mexico and Idaho, which also received NSF EPSCoR funding for climate change infrastructure.
A statewide virtual information center for climate change will be created to focus on outreaching visualization strategies. These will be employed to communicate findings to both the public and policy makers.