News Archive
-The 4th Annual Western Consortium Tri-State Meeting website has been converted into a post-meeting website where you will find the meeting agenda, attendee list, PowerPoint presentations from the sessions, photos, and poster abstracts and PDFs. To view the site, click here.
-Western Tri-State Consortium Call for Proposals - Innovation Working Groups
- NSF EPSCoR Climate Change RII Track 1 Year 4 Annual Report Survey
-Call for Papers Fourth International Conference on Climate Change: Impacts and Responses. Visit website for more information. http://on-climate.com/conference-2012/
-Climate Change Transect Project - NevCAN Brochure (professional print) | NevCAN Brochure (non-professional print) | Factsheet
-Climate Change and College Students:Promoting Attitude Change
The 3rd Annual Tri-State Meeting was a Success!
The 3rd Annual EPSCoR Western Consortium Tri-State Meeting took place on April 6-8, 2011 at the Hyatt Tamaya Resort & Spa in Bernalillo, NM. Nearly 200 researchers, educators, and administrators travelled from Nevada, Idaho, and New Mexico to participate.
For the full article, visit the 3rd Annual Tri-State Meeting webpage.
Click here to view the meeting agenda and a summary of presentations.
Congratulations to Ahmad Safi who has been chosen to work among a team of interdisciplinary scientists working for the "Great Lakes Cities Climate Adaptation Integrated Assessment project."
"The project aims at establishing a comprehensive and integrated understanding of the climate change impacts, vulnerability and resilience of the Great Lakes cities. As part of his dissertation Ahmad developed a comprehensive vulnerability assessment mechanism for Nevada farmers and ranchers that integrates both physical and socioeconomic vulnerabilities within an overarching vulnerability index indicator. Both the research work of Ahmad and the Policy Decision Making and Outreach Component, and his recruitment for UM, show the novelty and cutting edge natures of the research undergoing as part of the Nevada EPSCoR Climate Change Project.
Third Annual Field Day on the Long Now
EPSCoR Project scientists in a variety of research fields from the University of Nevada, Reno, Desert Research Institute, and the University of Nevada, Las Vegas have been working in a collaborative setting to establish two sets of monitoring stations across the elevational gradient in two separate Nevada mountain ranges.

Due to the generous cooperative spirit on the part of the Long Now Foundation (www.longnow.org), an opportunity to install long-term scientific study sites in unique Great Basin environments was created.
-National Science Foundation's SEES Innovation Website
"Monitoring Nevada's Changing Environment" highlight 22611 submitted by the Ecology and Water components has been featured in the NSF SEES Innovation website.
New Climate Change Videos have been added to the Video Channel at YouTube.
Long Now Field Day Participants Welcome Researchers from China and France
ARRA Funds Bolster Broadband Access and Improve Connectivity among Institutions to Strengthen Scientific Collaborations



On August 25th, 2010 the National Science Foundation (NSF) announced 17 awards, totaling $20 million, through the Research Infrastructure Improvement Inter-Campus and Intra-Campus Cyber Connectivity (RII C2) program. This effort is part of the Experimental Program to Stimulate Competitive Research (EPSCoR), which supports states that have less extensive scientific infrastructures and have historically received fewer federal research dollars. Each of these awards will provide just over $1 million for ...More
Nevada NSF EPSCoR Climate Change awarded the following students and faculty during the 2010 year.
Seed Grant Awards 2010
Summer UROP 2010
Graduate Research Assistantships 2008-2010
Climate Change Community...2010
Climate Change Graduate Fellow Awardees 2010

Annual Undergraduate Research Scholars 2010
Presentation and Interpretive Walk Offered Oct. 3 -- Supported by a fellowship of the Nevada NSF EPSCoR climate change grant, Mike Sady, Ph.D., UNR, worked with a DRI research professor, Carson City naturalist, volunteers and collaborators to characterize the landscape adjacent to Western Nevada College (WNC) affected by the Waterfall Fire of July 2004.

On Saturday, Oct. 3, 2009, a presentation and interpretive walk on the study and trail will be offered to community members. The following slide presentation may be used to facilitate group visits. For more information, contact Mike Sady at mbsady@wnc.edu or 775-445-4400.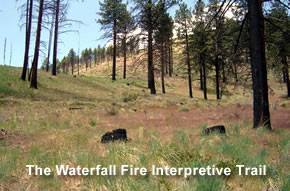 Nevada Appeal - The Waterfall Fire Interpretive Trail 8-10-09
11-28-08 - Nevada Institutes Rewarded $15 Million Grant to Study Climate Change
11-08-08 - Scientists study impact of climate on NV
11-08-08 - Nevada climate to be studied
11-08-08 - Nevada Scientists to Study Water Warming Impact on State
11-07-08 - Scientists study impact of climate on NV
11-07-08 - Scientists study impact of climate on NV
11-07-08 - Scientists study impact of climate in Nevada
11-07-08 - Scientists study impact of climate on NV
10-20-08 - NSHE assembles dream team to study state's climate changes
10-01-08 - Nevada part of climate change research
10-01-08 - Nevada receives grant for climate change research
10-01-08 - Climate Research Heats Up with Big Grant